So I graduated from my Dutch class, and my main take-away is that Dutch does not feel weird anymore. I'll admit it: Until a couple of weeks ago, my German-trained mind found Dutch pretty funny. All those double vowels, and the word choice (and word order) that is mostly comprehensible, but just different enough that it seems cutely off… belangrijke vitaminen* in my yoghurt, people telling others to bellen** or to run the sea in***, ha ha. Now that I've learnt the basics of Dutch, the language has begun to make a surprising lot of sense – to the point that I've started to replace ei by ij in some German words, and using those previously-funky double vowels… the thing is, Dutch spelling is super-logical. A word like brood (bread) sounds like it looks, with a loooong "o"; and while the German word sounds very similar, it is spelled Brot – which now looks like it should sound like "brott". Maybe the two are just too close for comfort? Well, if my command of my mother tongue gets a bit weird over the next months, I hope that will be temporary – and signify that my Dutch is getting proportionally better. :-)
My classmate Inês, who is also a designer, has found a cool way to make studying vocabulary visual, and more fun: For a few months now she has been posting "A Dutch Word a Day" – cute analog illustrations of Dutch words: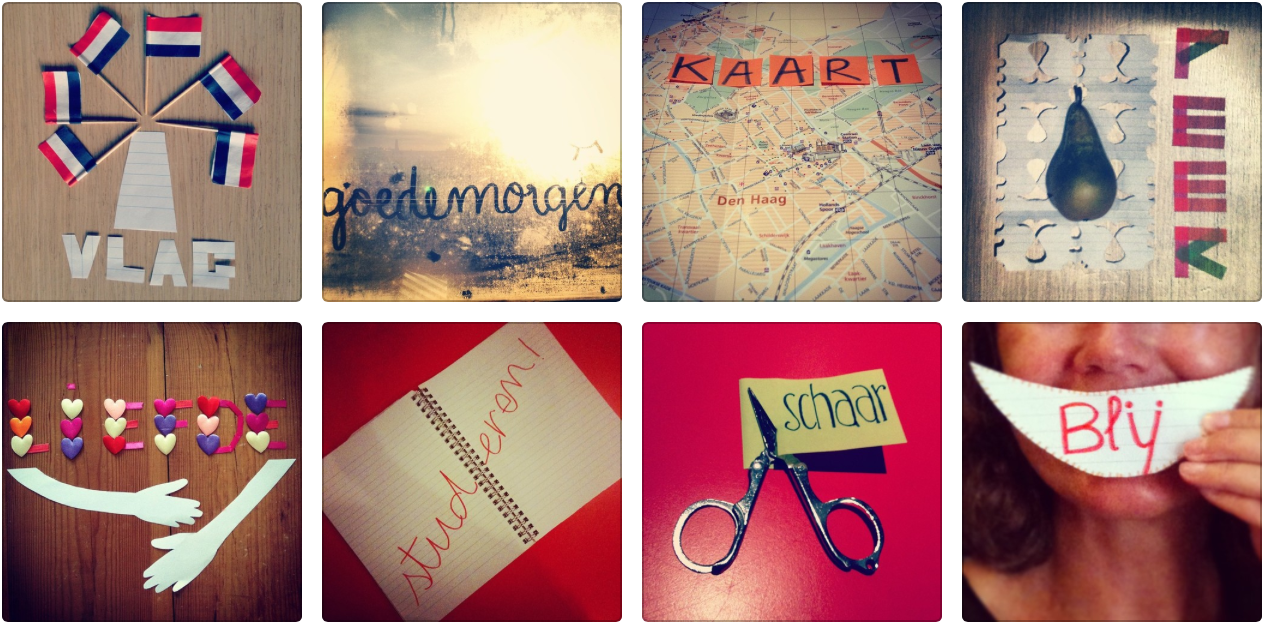 Generally, I feel quite happy to have gotten a peek inside the workings of this language – not just because I'll at least partly have to operate with it in everyday life for the next year or so, but also because its representation in letters has such a proud and beautiful tradition. Indeed, typography in the Netherlands is often (if by far not always) beautiful, and unmistakably Dutch. The latest example I encountered is the Groot Uitdrukkingen woordenboek (Van Dale) that my teacher let me look at in the lunch break one day – a book I found very hard to put down, and might just have to get for myself. It also felt incredibly Dutch, and a quick look at the colophon revealed that it is in fact typeset in TEFF Ruse by Gerrit Noordzij himself, originator and father-in-spirit of the type design graduate class here in The Hague, which I am getting very excited about entering very soon now.
Picture below shows the typography… and my favorite idiom so far.

*
belangrijk
is the normal word for "important" in Dutch, whereas the corresponding German word
belangreich
 is a quite old-fashioned word for "relevant" or so. It kind of means something similar, but the German word sounds positively silly for yoghurt. ** 
bellen
 in Dutch means to ring (e.g. a doorbell). In German 
bellen
means to bark. Ha ha. I mean woof. *** Correct word order in Dutch (IIRC) to say 
run into the sea
.